Aluminium Medical Gas Cylinders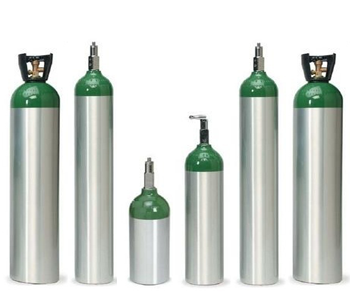 We are distributor of Al-can Aluminium High Pressure Cylinders and accessories for East Africa. All Alcan products are designed and manufactured to exact standards using the highest quality materials. Each Cylinder ranges from 500Ml to 20 Litres water capacity, with working Pressure of 150 Bar / 200 Bar and test pressure upto 225 Bar / 300 Bar.
Each cylinder goes through specified testing at every stage of production by highly qualified quality control process and also undergo a series of cyclic testing to simulate its Life. Every cylinder is 100% tested for reliable performance.
These Aluminium can be used by Oxygen Cylinders for High Mountaineers, Oxygen Cylinders for Ambulance, Oxygen Cylinders for Hospital, Oxygen Cylinders for Home use and Oxygen Cylinders for Travelling and for Fire Extinguishers.
BS EN ISO 7866:2012 / ISO 7866:2012 / IS 15660
For Medical Gases / Calibration Gases / Speciality Gases
Working Pressure 150 BAR and Test Pressure 250 BAR
| Serial No. | Water Capacity | Gas Capacity Approx | Outside Dia Approx | Length Approx | Tare Cylinder Weight Approx |
| --- | --- | --- | --- | --- | --- |
| | | | | | | | | | | |
| --- | --- | --- | --- | --- | --- | --- | --- | --- | --- | --- |
| | Liters | Cubic Feet | Cubic Mtr | Liters | Inch | MM | Inch | MM | Lbs | Kg |
| ACI-150 | 1 | 5.297 | 0.15 | 150 | 3.54 | 90 | 10.3 | 262 | 2.6 | 1.2 |
| ACI-195 | 1.3 | 6.9 | 0.2 | 195 | 4.37 | 111 | 9.8 | 250 | 3.7 | 1.7 |
| ACI-270 | 1.8 | 9.5 | 0.27 | 270 | 4.37 | 111 | 12.7 | 322 | 4.8 | 2.2 |
| ACI-300 | 2 | 10.6 | 0.3 | 300 | 4.37 | 111 | 14 | 357 | 5.3 | 2.4 |
| ACI-330 | 2.2 | 11.66 | 0.33 | 330 | 4.37 | 111 | 14.6 | 370 | 5.4 | 2.5 |
| ACI-420 | 2.8 | 14.84 | 0.42 | 420 | 4.37 | 111 | 18.3 | 465 | 6.2 | 2.8 |
| ACI-465 | 3.1 | 16.43 | 0.47 | 465 | 4.37 | 111 | 18.5 | 496 | 7.3 | 3.3 |
| ACI-675 | 4.5 | 23.85 | 0.68 | 675 | 4.37 | 111 | 26.8 | 681 | 8.9 | 4 |
| ACI-750 | 5 | 26.5 | 0.75 | 750 | 4.37 | 111 | 29.8 | 756 | 9.9 | 4.5 |
| ACI-1170 | 7.8 | 41.34 | 1.17 | 1170 | 5.51 | 140 | 28.5 | 780 | 17.3 | 7.9 |
| ACI-1365 | 9.1 | 48.23 | 1.4 | 1365 | 5.51 | 140 | 32.3 | 820 | 18.8 | 7.6 |
| ACI-1500 | 10 | 53 | 1.5 | 1500 | 5.51 | 140 | 36.8 | 935 | 22.7 | 10.3 |
Working Pressure 200 BAR and Test Pressure 300 BAR
| | | | | | | | | | | |
| --- | --- | --- | --- | --- | --- | --- | --- | --- | --- | --- |
| ACI-4000 | 20 | 141.4 | 4 | 4000 | 9.13 | 203 | 28.78 | 731 | 55.12 | 25 |
| ACI-8000 | 40 | 282.7 | 8 | 8000 | 9.13 | 232 | 53.74 | 1365 | 97.22 | 44.1 |
| ACI-10000 | 50 | 353.4 | 10 | 10000 | 9.84 | 250 | 59.17 | 1503 | 121 | 54.9 |