Stainless Steel Regulators For High Purity Gases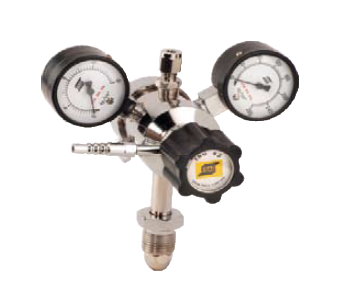 These Stainless Steel Regulators are the latest and long life with world class technology regulators. These ESAB regulators are latest design and proven diffusion resistant materials to control the exact requirements of services fro speciality gases and provides the user with enhanced safety, durability and precision.
Silent Features
• Stainless Steel - 316L garde body.
• 2" stainless steel pressure gauges.
• Non Bursting Stainless Steel Diaphragm in both stages.
• Maximum inlet pressure: 250 bar.
• Maximum working pressure - 0-25 bar.
• Gas service - Oxygen, Nitrogen, Hydrogen, Acetylene, Argon, Carbondie Oxide, Nitrous Oxide, Ammonia, Helium, Sulphur Dioxide, Rare Gases like Carbon Monoxide, Carbon Sulphide, Methylene and for many other gases.